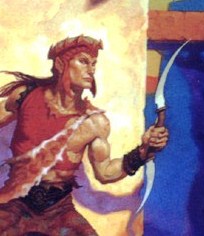 Words and Language of the Athasian Elf.
In the '90 the Dark Sun mailing list had a series of small projects to build the lore of the Dark Sun setting. This article is a repost of that material by Dave Coleman and Shawn Kasprick
Herbs of Athas: A collection of herbs found across the Tablelands and beyond. Read More
What becomes of a small outpost nearly decimated by the Athasian wilds, then saved by a druid?
See what happend:Kaprak: City of the Druid